Officials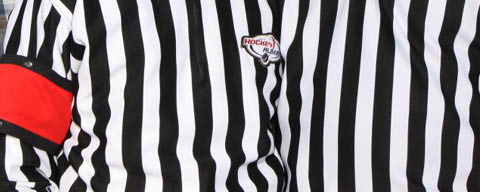 Officiating is a significant component of the game of hockey. Without officials, there is no game. It is officials passion and dedication to the game of hockey, that makes the game possible for over 13,500 kids in Calgary.
How to become a certified official:
To become certified as an official in Calgary you need to take part in an officials certification clinic.
To officiate you must be at least 13 years of age.
CZRC officiating clinics and dates
Who officiates what divisions? Who assigns the officials?
Referees/Linesmen for Novice or Atom are assigned by Community Referee Coordinators based on assigned rinks.
For Pee Wee Division 4 and lower, the CZRC will assign the referee only and the linesmen are assigned by the Community Referee Coordinator.
For all Pee Wee Divisions 1-3, Bantam, Midget, Junior and Female games, the officials are assigned by CZRC.
What do you need to become an official?
Required Equipment:
Black CSA certified helmet
CSA certified half visor
Elbow pads
Metal or black plastic whistle
Athletic support and cup
Measuring tape
Black polished skates with white laces
Hockey Canada Rule Book
Shin Pads
Clean official's black and white sweater with Hockey AB crest on front left side and Hockey Canada on the left arm
Black, pressed pants
*** Please note that a black Mesh Under Arm jersey is illegal

ADDITIONAL ITEMS - Please note that these items are not mandatory!
Approved Stick gauge
Rule Book/Case Book Combination
Needle and thread
Hockey puck
Referee pad and pencil
Off-ice Officials Manual
Officiating Procedures Manual
Protective girdle
Black referee bag
Extra safety pins
Skate stone
Extra white laces
Extra whistle
Towel and soap
Hockey Calgary and Hockey Canada Rule Books
Hockey Calgary By Laws and Playing Rules (PDF)
Officiating Links
Hockey Canada's Officiating Certification Levels
Hockey Canada Officiating Bulletins
Hockey Canada Downloads
Hockey Canada Standard of Play
Hockey Canada Rule Emphasis
Officiating Health and Wellness Info
NHL Officiating Training Camps
Calgary Central Zone Referees Council website
NDL Officiating Manual and Clinics
Officiating Contacts
Hockey Calgary Thanks Our Sponsor
---


Hockey Calgary Thanks Our Sponsor