Coaches Wanted!
The Calgary Royals Athletic Association is currently seeking ice hockey Head Coaches for Bantam AA and Midget AA for the 2018/2019 season. This position is responsible for leading on ice aspects of the team within our organization. Qualified applicants must demonstrate and instruct the fundamentals of ice hockey as appropriate to the elite level. Must possess strong interpersonal skills to develop relationships with different contractors involved with this program. Please submit applications to admin@calgaryroyalsaa.com
http://calgaryroyalsaa.com/files/craa_coach_application_form_2018-2019.pdf
Bantam AA City Championship
Bantam AA City Championship 2017-2018
Playoff Overtime Rules
Midget AA and Junior B Playoff Overtime Rules
---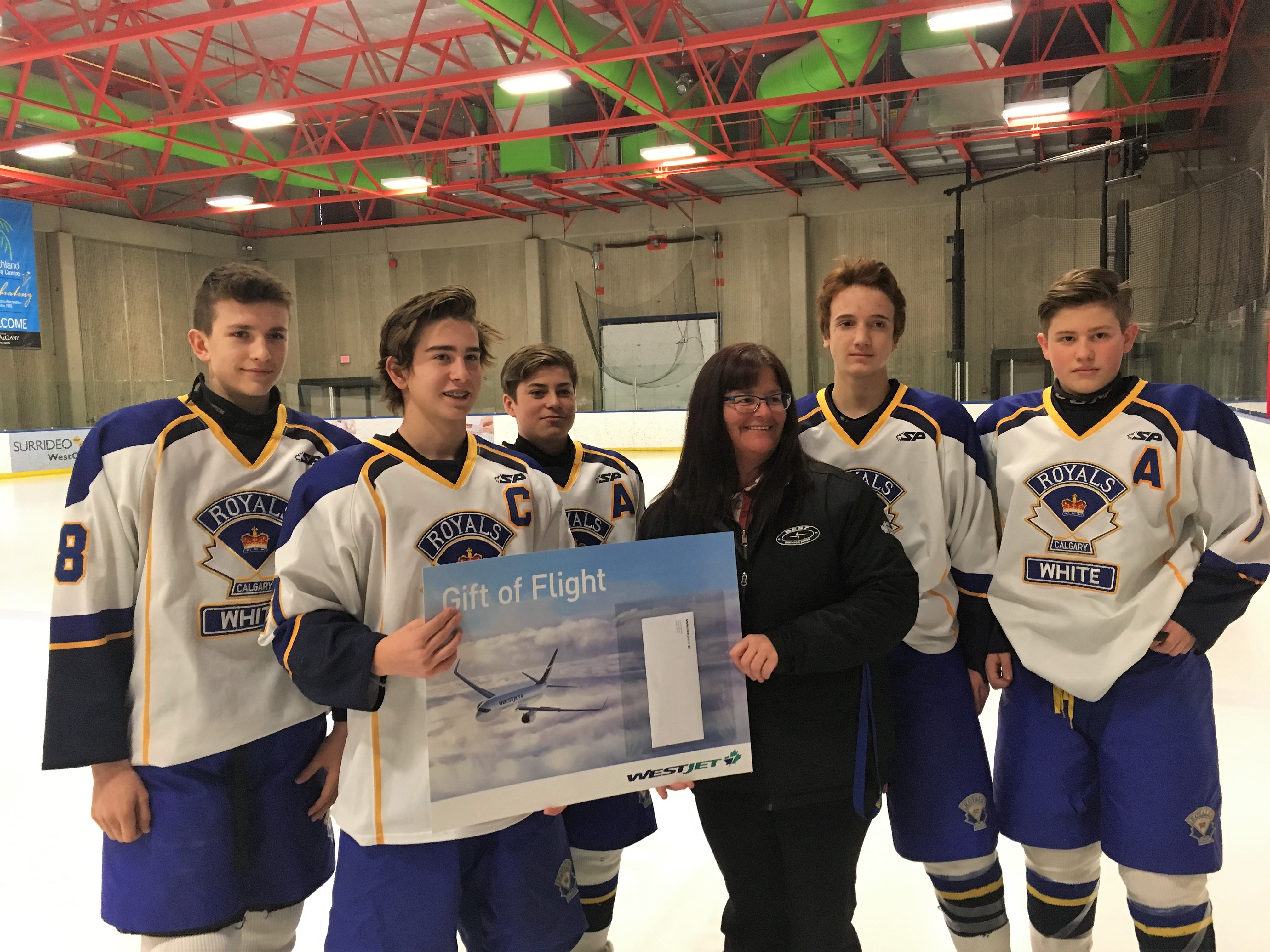 The Royals Bantam AA White recently held a raffle for two tickets anywhere WestJet flies. The Captain and Assistant Captains were happy to award the prize to Diane F of Calgary
L-R Carson Fowler (A), Dane Probe (C), Taylor Charlesworth (A), Winner Diane F of Calgary, Conner Bate (Seller of winning ticket), Wesley Graff (A)
---
The Friends of Alberta Junior Hockey Society are pleased to announce the reciepients of some of the 33 scholarships that are awarded to players, officials, and alumni this season. Don Allan presented these awards on behlf of the Friends of Alberta Junior Hockey Society,
Recieving $2000.00 each in recognition of their academic achievements and who are continuing to play hockey at a high level.
Kyle Exner Calgary Jr. B. Stamps was awarded the Mark Goodkey Memorial scholarship which is for highest academic and all round athlete. Kyle is taking Bachelor of Science degree in the faculty of Kinesiology with a major in Exercise and Health Physiology. He has GPA 3.97 at U of Calgary.
Caleb Laser Calgary Jr. B. Stamps was awarded a Charles S. Noble scholarship. GPA cumulative 3.58 taking Bachelor of Nursing at Mount Royal
Kieran Lamont Calgary Jr. Blackhawks was awarded a Charles S. Noble Scholarship. GPA cumulative 3.84 taking Bachelor degree in Kinesiology, Bachelor of Kinesiology, with a Kinesiology major at University of Calgary.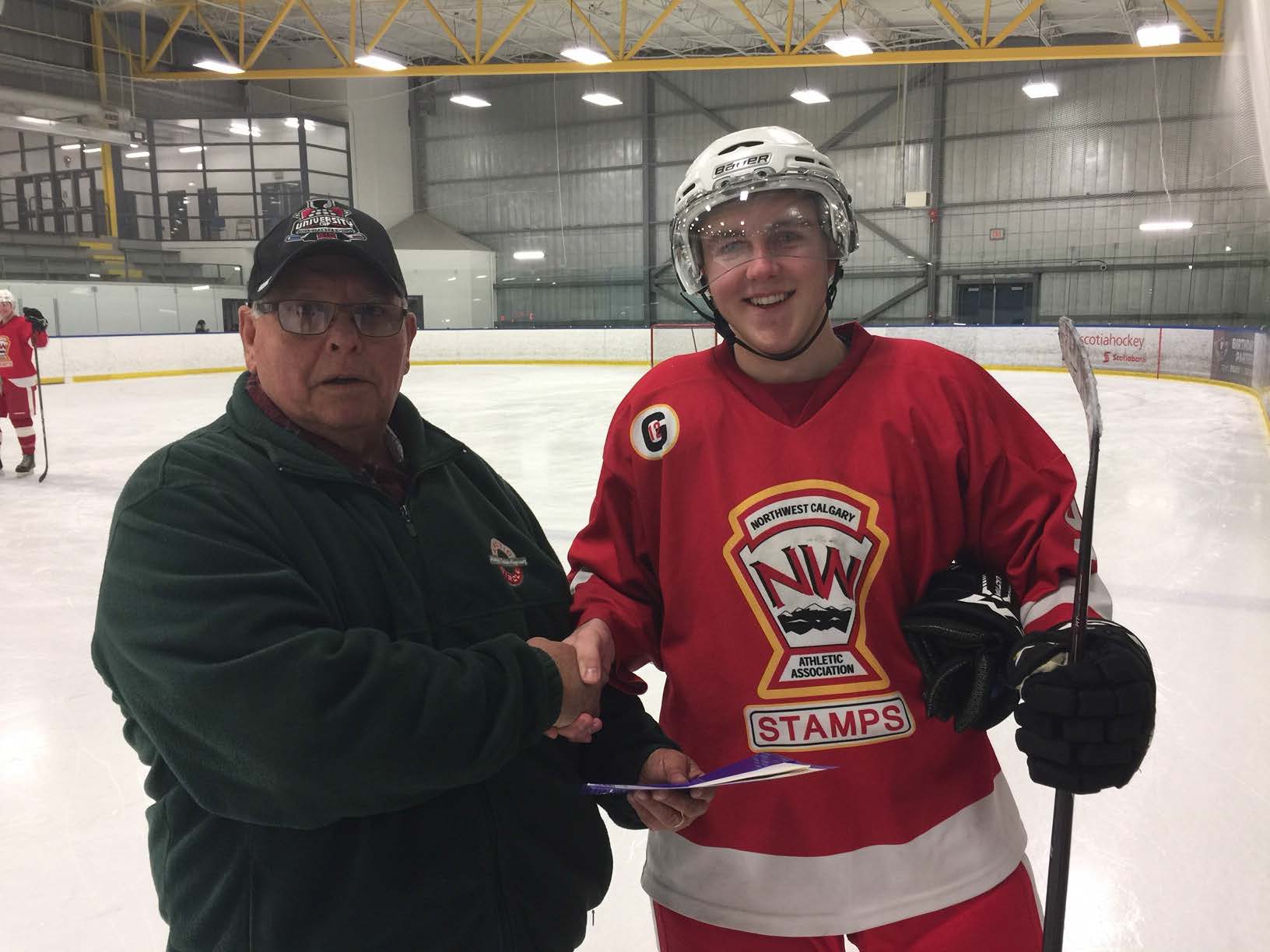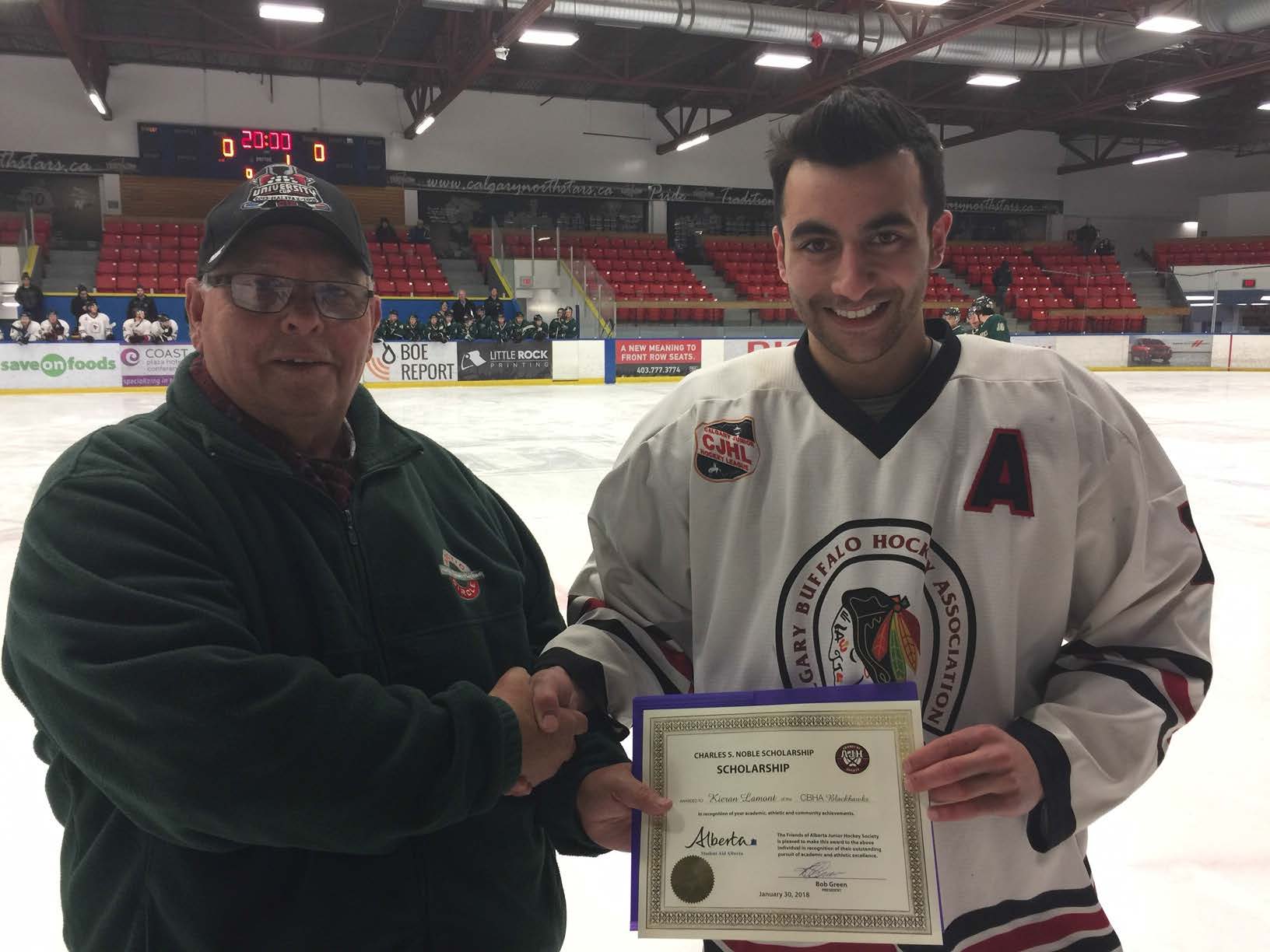 ---
2018 Bantam AA & Midget AA ALL-STAR Games
Was held Jan 21, 2018 at the MaxBell Center on the Ken Bracko Arena. This years event was be Hosted by the NWCAA.
Bantam AA South defeated North 4-3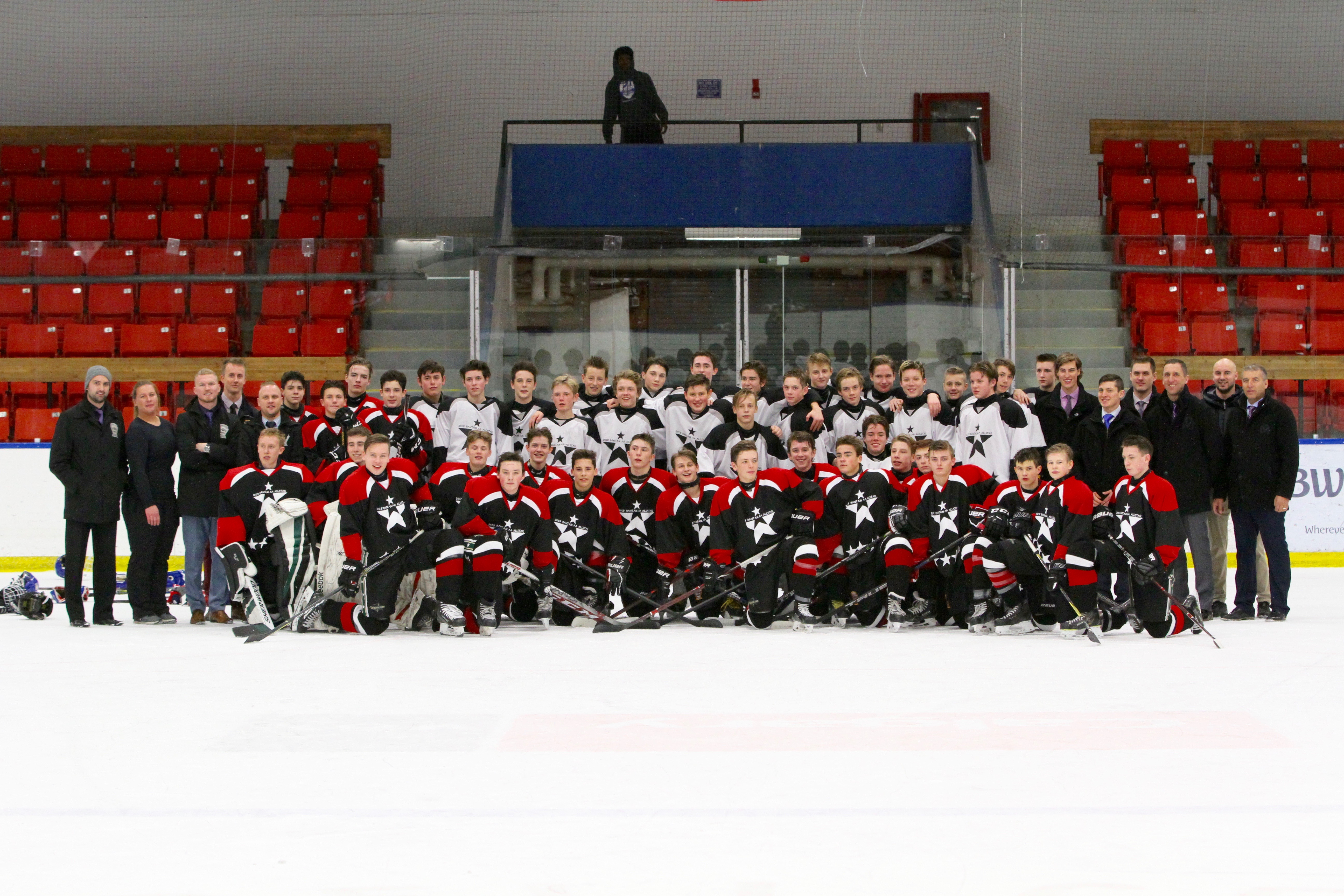 Midget AA - East Defeated West 11-4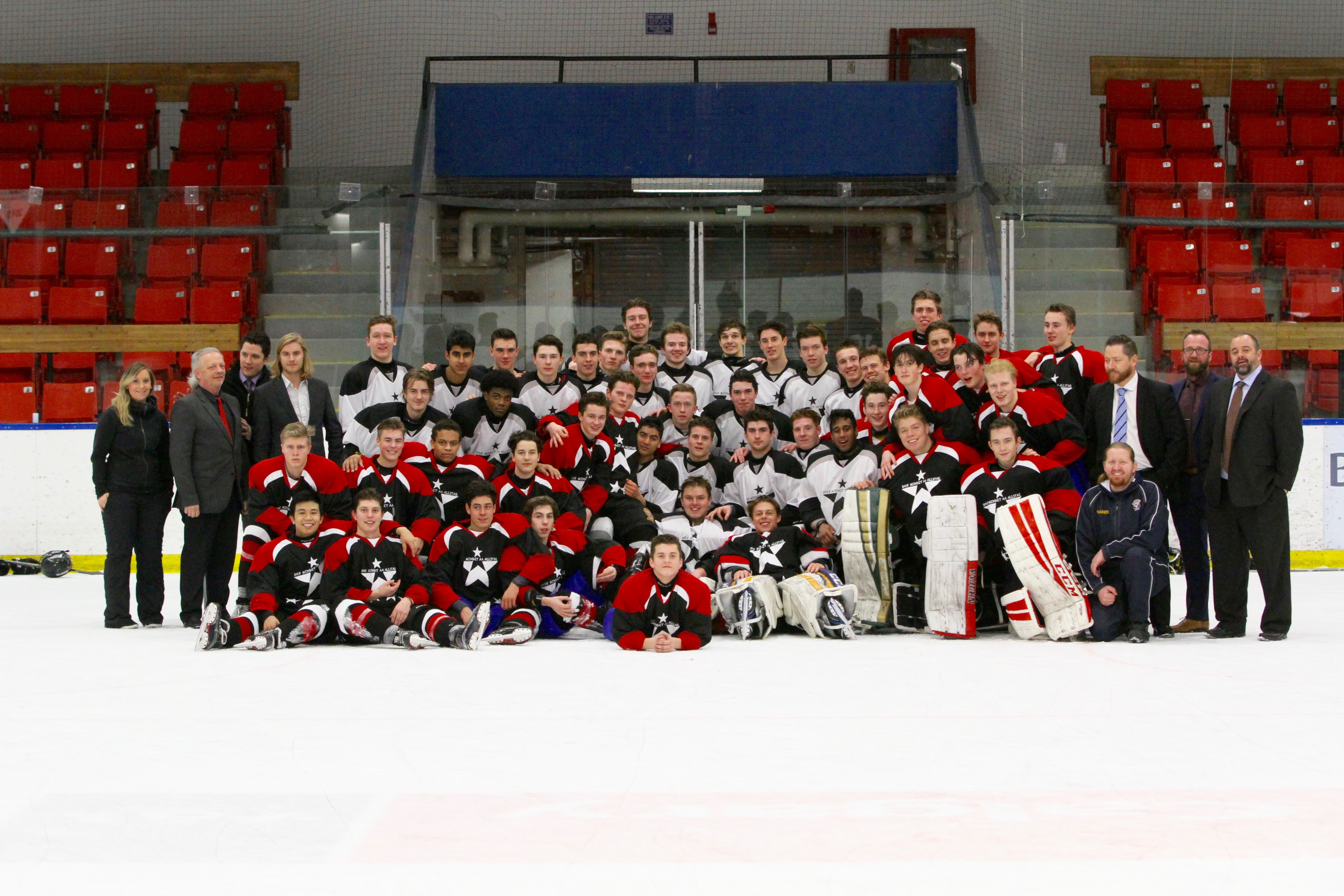 8 Boxes of Food Bank donations were collected on behalf of the Veterans Food Band. Thank you to everyone that participate and contributed to the 2018 ALL STAR GAME.
---
Midget AA Stamps Volunteer their time. The Magic of Christmas is a 100% volunteer, non-denominational charity based in the city of Calgary.
Every Christmas Eve, we load up Calgary Transit buses, magically transformed into "reindeer buses," with hundreds of gifts and volunteers dressed as Santa and his elves. Then, we do what we do best—deliver Christmas spirit into the homes and hearts of those who need it most.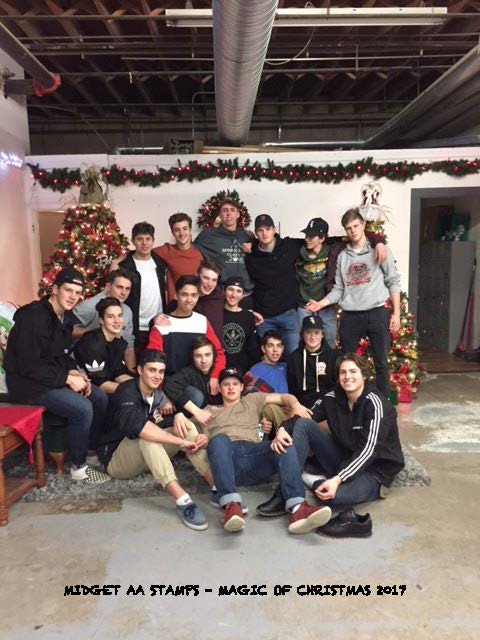 ---
AA Midget Canucks won there first Gold Medal in the Bow Valley Timberwolves AA tournament in Cochrane November 10th--12th with a record 4 wins and no losses.
Congratulations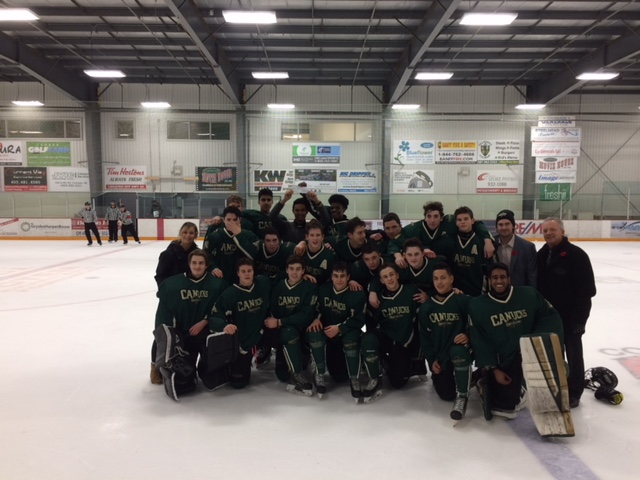 ---
AA Midget Canucks won there second gold medal in the Banff BHA Challenge tournament with a record of 4 wins, 1 loss, December 1st----3rd.
Congratulations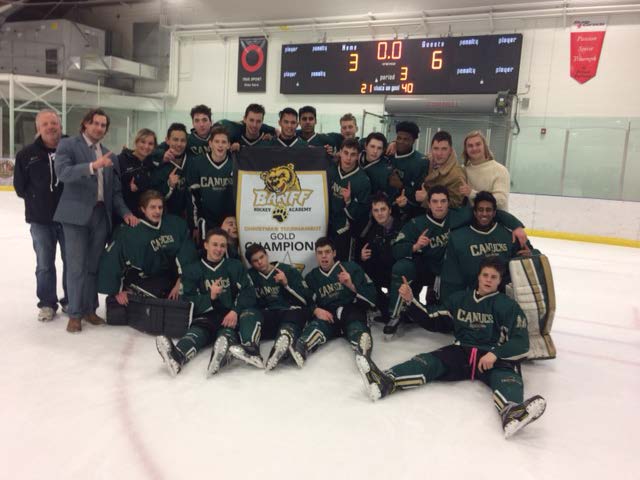 ---
Spring / Fall Junior Camps
If you are going to attend any Spring / Fall Junior Camps, Hockey Calgary has created an online form which is available through the link below. You must complete the online form and press "Submit". You will receive a reply from Hockey Calgary once the submission has been reviewed. If Approved, you must take the confirmation email to the camp with you, as it now represents the Letter of Permission. No signatures will be required.
https://www.hockeycalgary.ca/forms/letter-of-permission
---
Hockey Calgary Thanks Our Sponsor
---


Hockey Calgary Thanks Our Sponsor