Bantam AA City Championship
Bantam AA Tournament Information
Playoff Overtime Rules
Midget AA and Junior B Playoff Overtime Rules
---
BAA CNHA Kings City Champions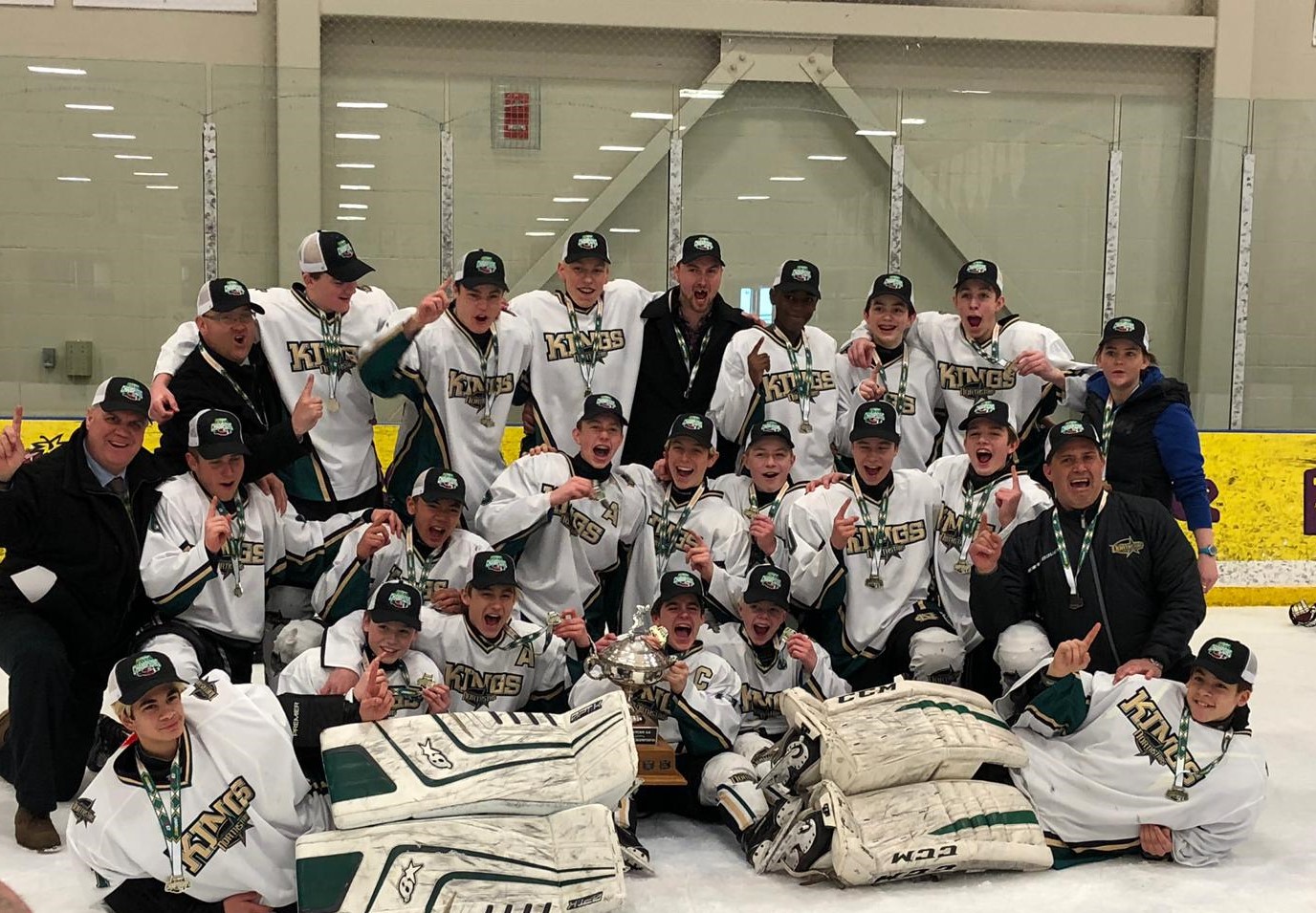 What a fabulous season the Bantam AA Kings had! The players worked hard and put 100% effort into everything they did. With perseverance, dedication and team work the players became a cohesive motivated team. Amazing job Kings!
---
Midget AA CNHA Canucks City Champions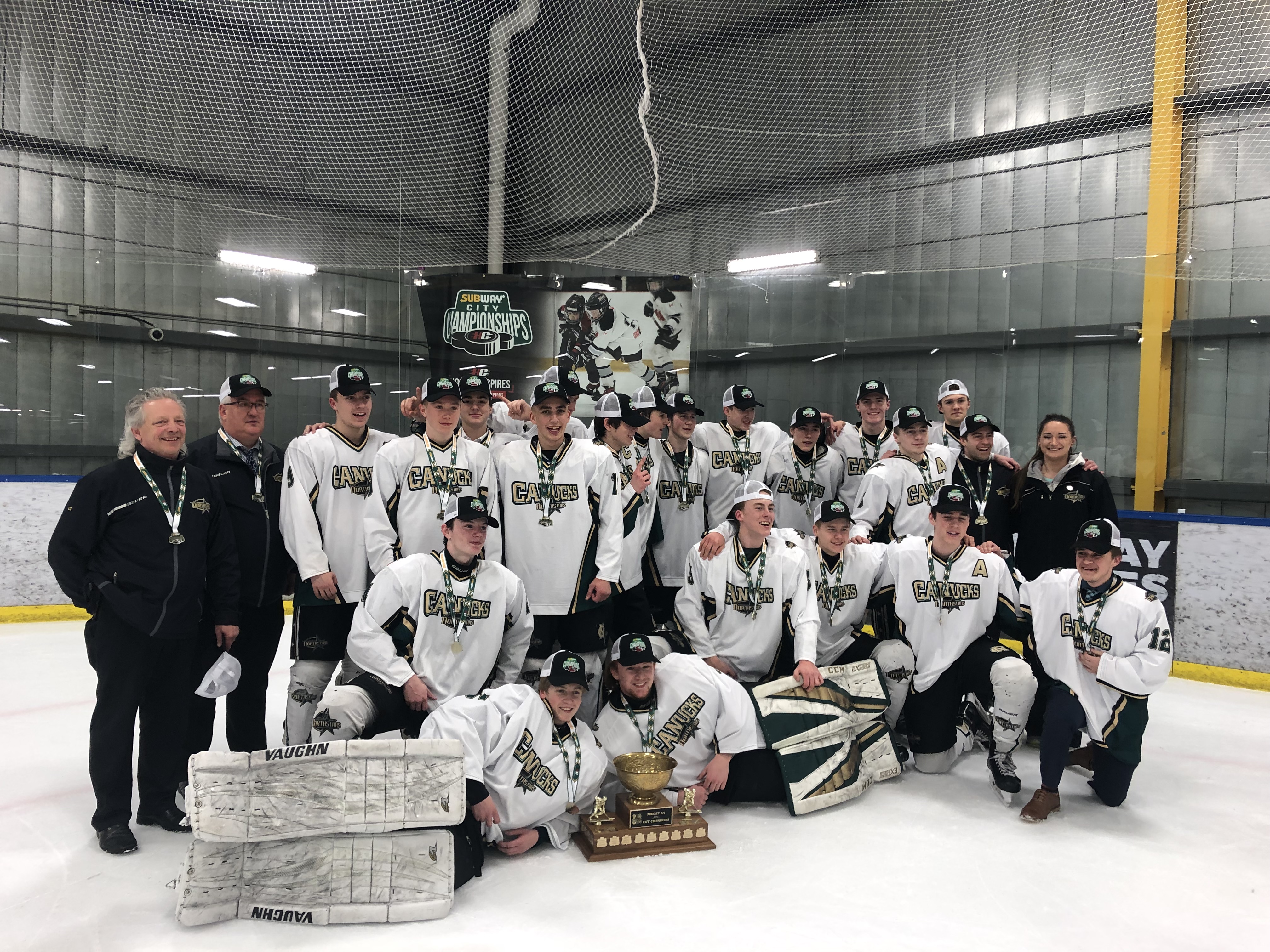 ---
Bantam AA and Midget AA All Star Games
Sunday January 20th at Max Bell 1
Bantam AA 5:00 to 7:30 PM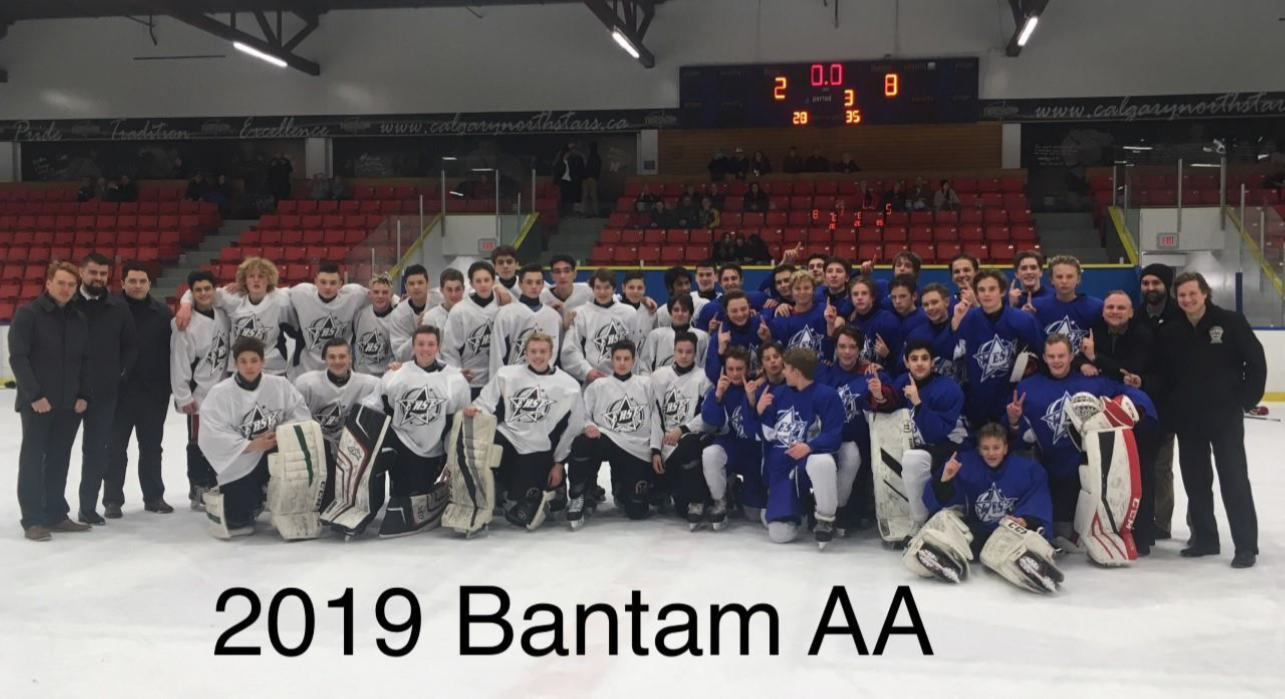 Midget AA 7:45 to 10:15 PM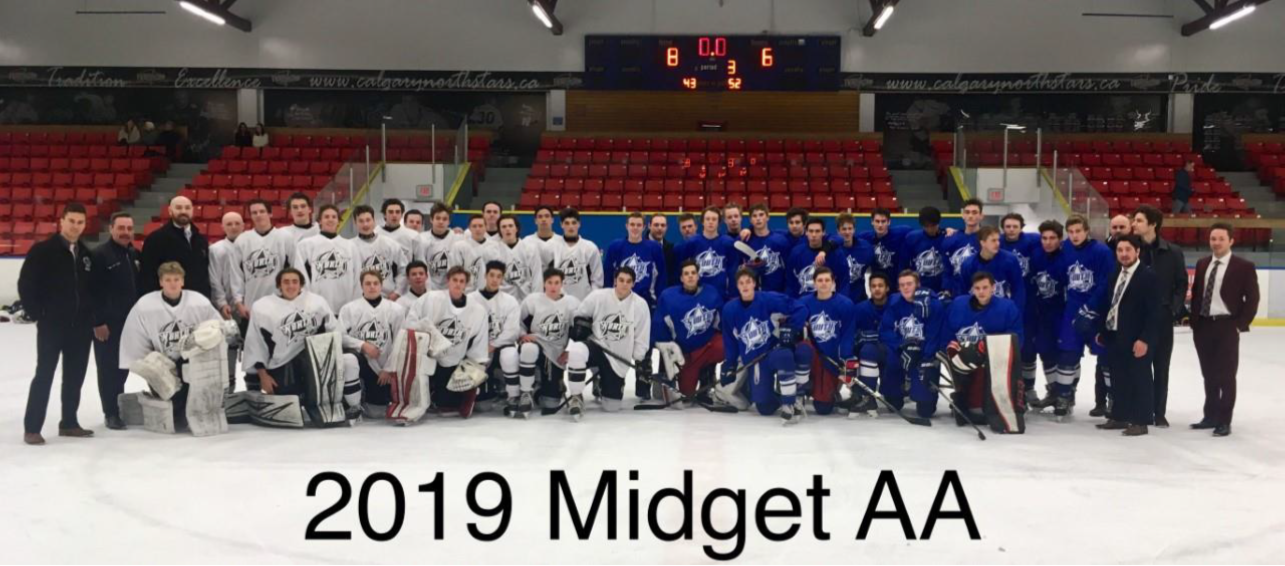 Junior B All Star Game
Saturday February 2nd at Max Bell 1 7:00 to 10 PM
---
NWCAA BAA BRONKS WIN GOLD
The NWCAA Bantam AA Bronks were gold medal winners at the 2nd Annual Winnipeg Jets AA Showdown held Jan 3-6 in Winnipeg. the Bronks beat the second seeded ESM Central Snipers in the semi-final, and then blanked the undefeated ESM Northern Knights 2-0 in the final.
Congratulations to all the players and to Head Coach Zack Finlay and his staff.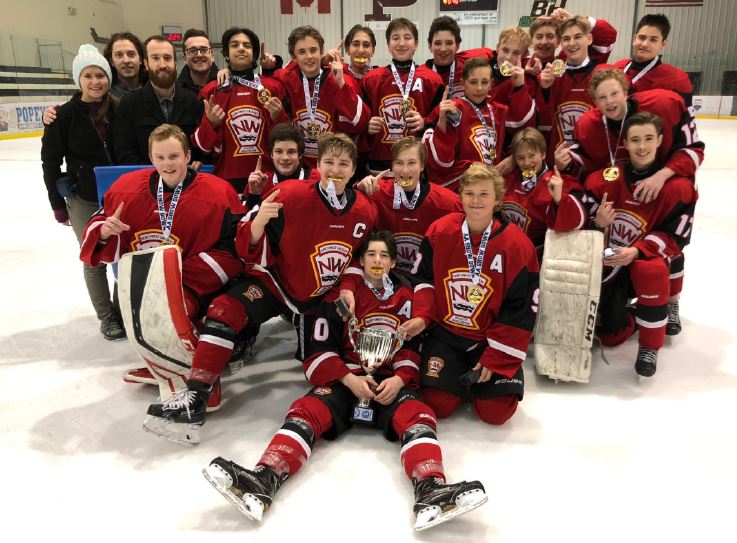 CRAA BANTAM AA GOLD
The CRAA Bantam AA Gold team won 5 straight games at the Penticton Bantam Tier 2 tournament last weekend to take the Gold Medal … defeating Kamloops 3-2 in the final.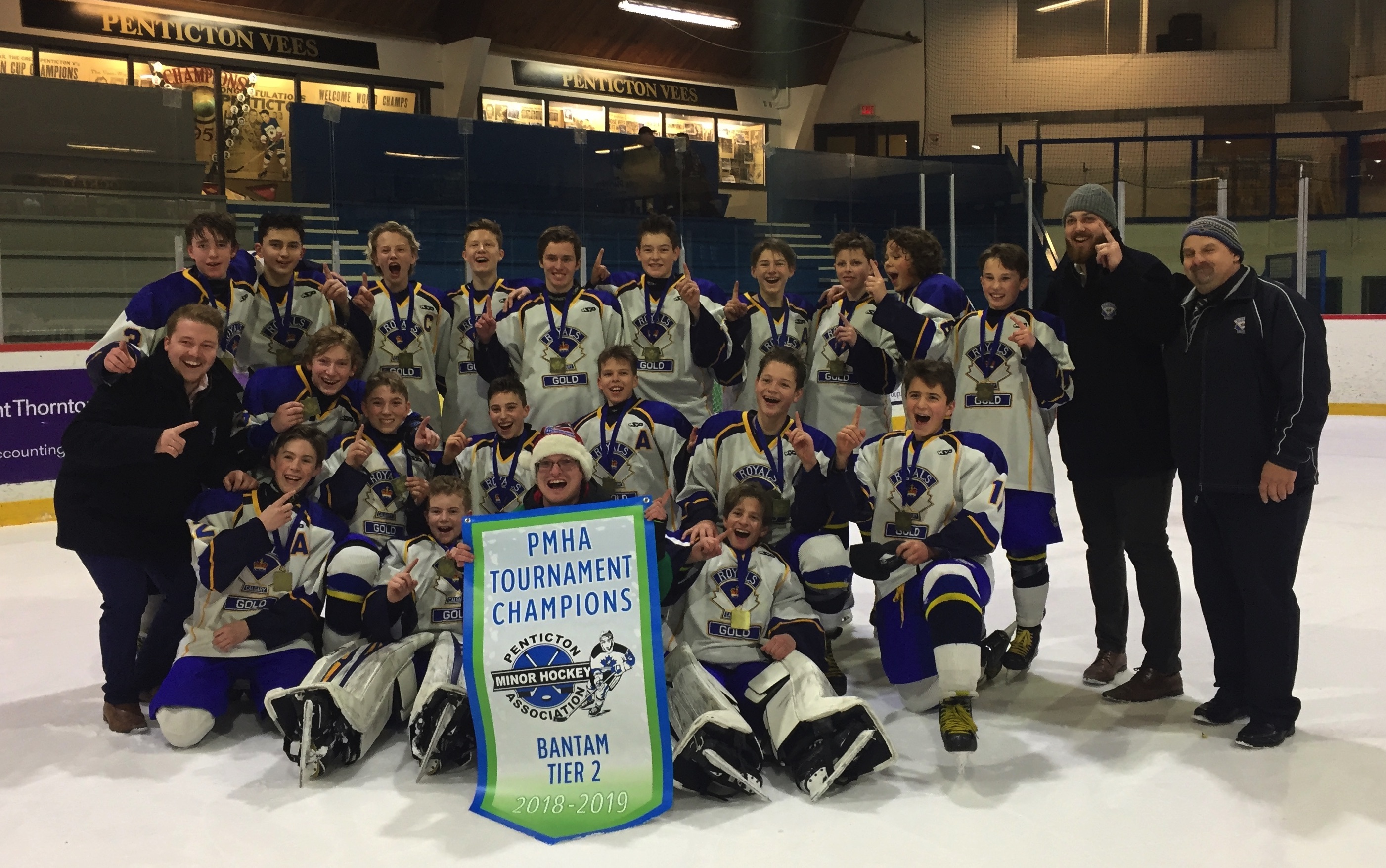 ---
CBHA Midget AA Rangers
The CBHA Midget AA Rangers bring home Gold from the 2018 Olds Grizzlies Midget AA Tournament.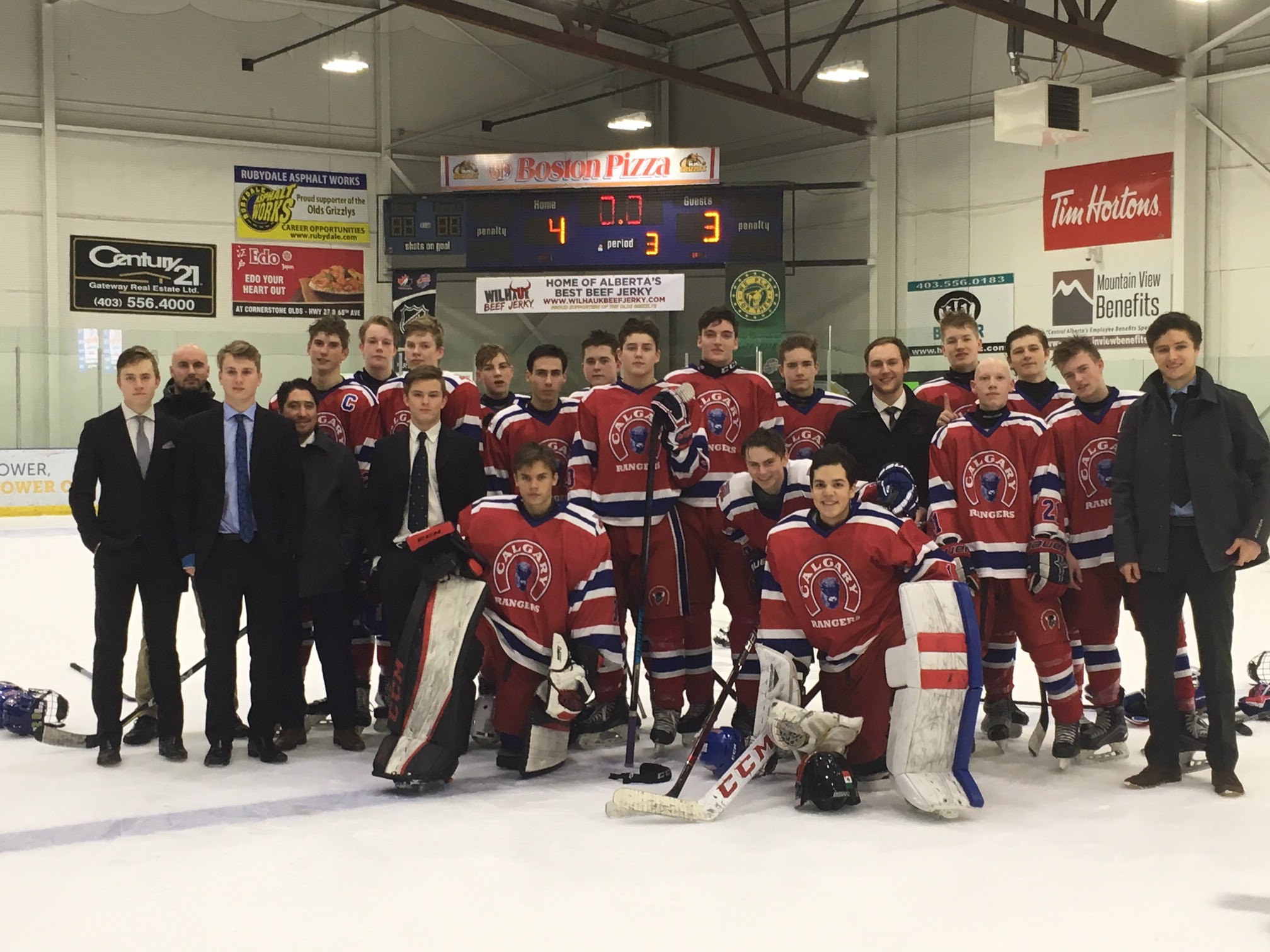 ---
CNHA Bantam AA Blazers
The CNHA Bantam AA Blazers travelled to Lethbridge on November 30th for the 2018 Lethbridge Hurricanes Bantam AA Tournament. The Blazers first of 3 round robin games had them pitted against the host Lethbridge club at a near sellout crowd at the old Henderson Ice Center arena.
The Blazers saw 13 different players score goals on the weekend for a well-balanced performance.
This was the Blazers 2nd straight tournament championship.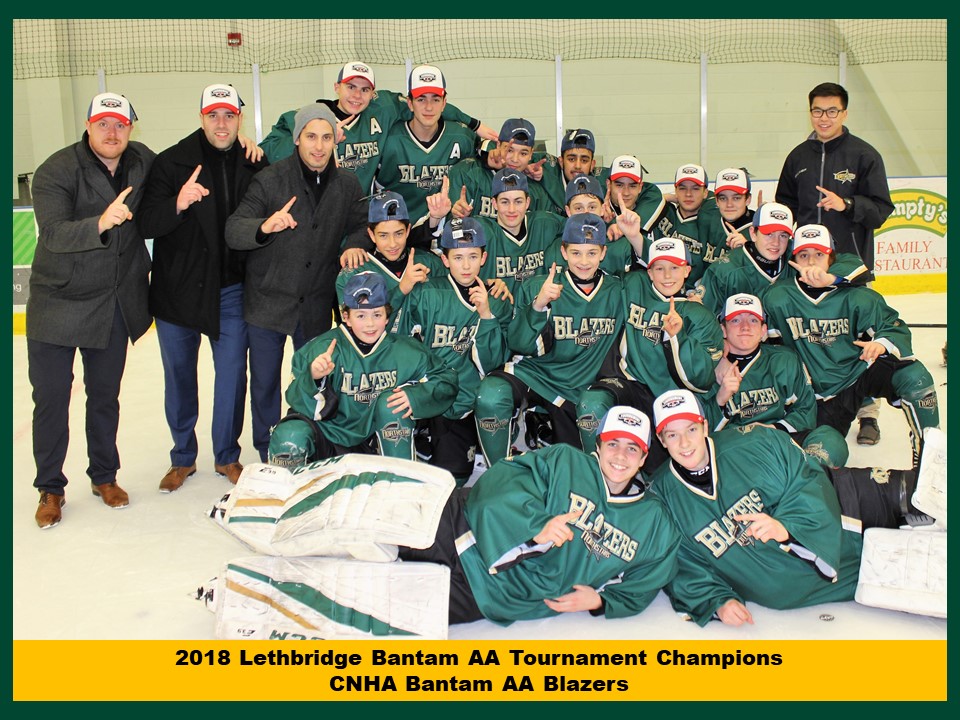 ---
CNHA Midget AA Blazers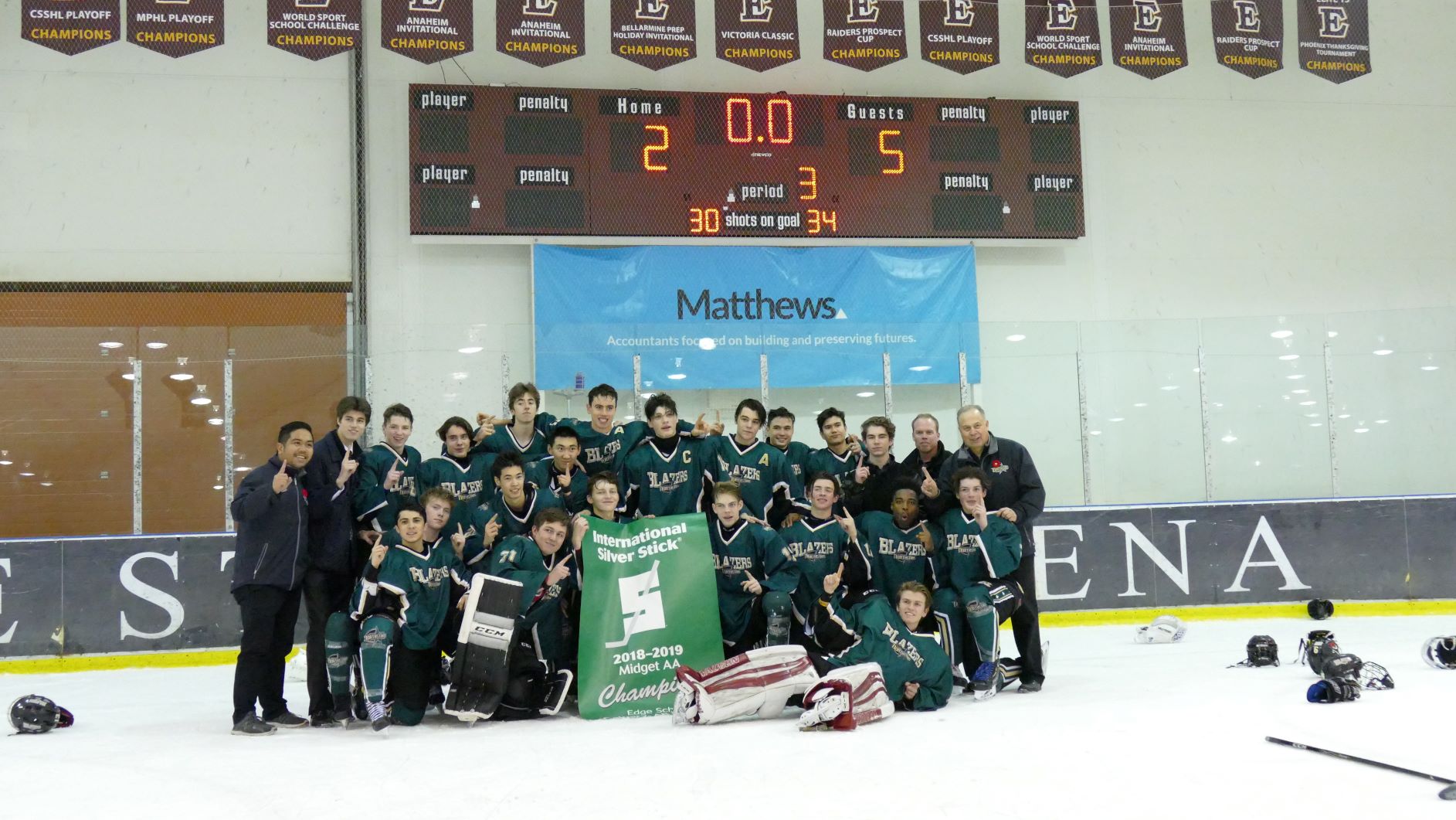 "The CNHA Midget AA Blazers are the inaugural champions of the Edge Silver Stick Fall Classic tournament held on Nov. 1-4. The Blazers played great hockey and won games over Pilot Mound Academy, Okotoks, International Hockey Academy, NWCAA Stamps and St. Albert in the championship game. Thanks to the Edge School for hosting an awesome tournament."
---
NWCAA MIDGET AA BRUINS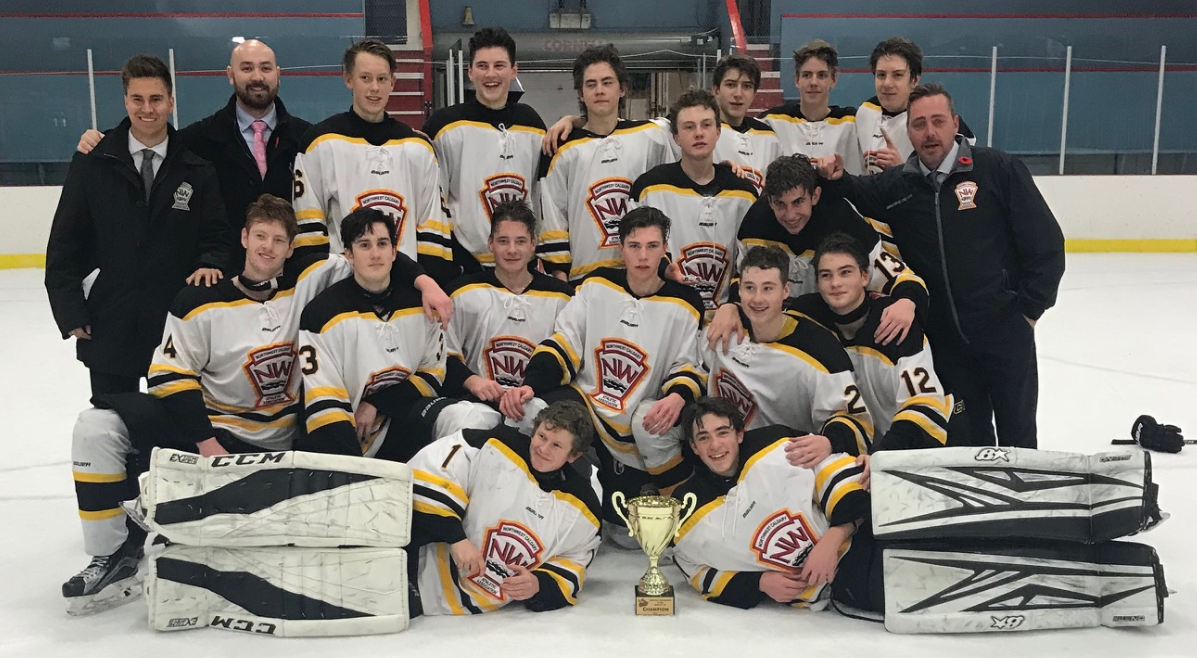 The NWCAA Bruins traveled to Kelowna Oct 26 for the Kelowna Minor Hockey Midget AA tournament. We rallied as a team to overcome a loss in our first game and a depleted line up to capture the championship.
Thanks to Kelowna for hosting an amazing tournament
---
The CNHA Bantam Blazers on October 12th travelled north to Camrose for the 2018 Camrose Bulldogs Bantam AA Tournament. After the dust settled and the points were tallied, the Blazers had a date against Olds Bantam AA Grizzleys in the tournament championship Sunday afternoon. As the game ended, both teams were even on the shot clock with Blazers edging Olds 5 – 3 to secure the tournament championship. The Blazers were led by Captain Nic Abou Daher who tallied 3 goals and 3 assists for 6 points in the tournament. Other point getters were Matthew Crews with 5 helpers, Jake Neufeld with 4 goals, and Kale Simonson with 3 goals and 1 assist. In total 15 different skaters contributed to the scoresheet for a well-rounded team effort. Cameron Doucette turned away 34 shots on the weekend while collecting 2 wins and sporting a .940 save percentage. Bryce Ilcan handled the goaltending responsibilities for the Gold Medal game and turned away 21 shots to secure the Gold Medals.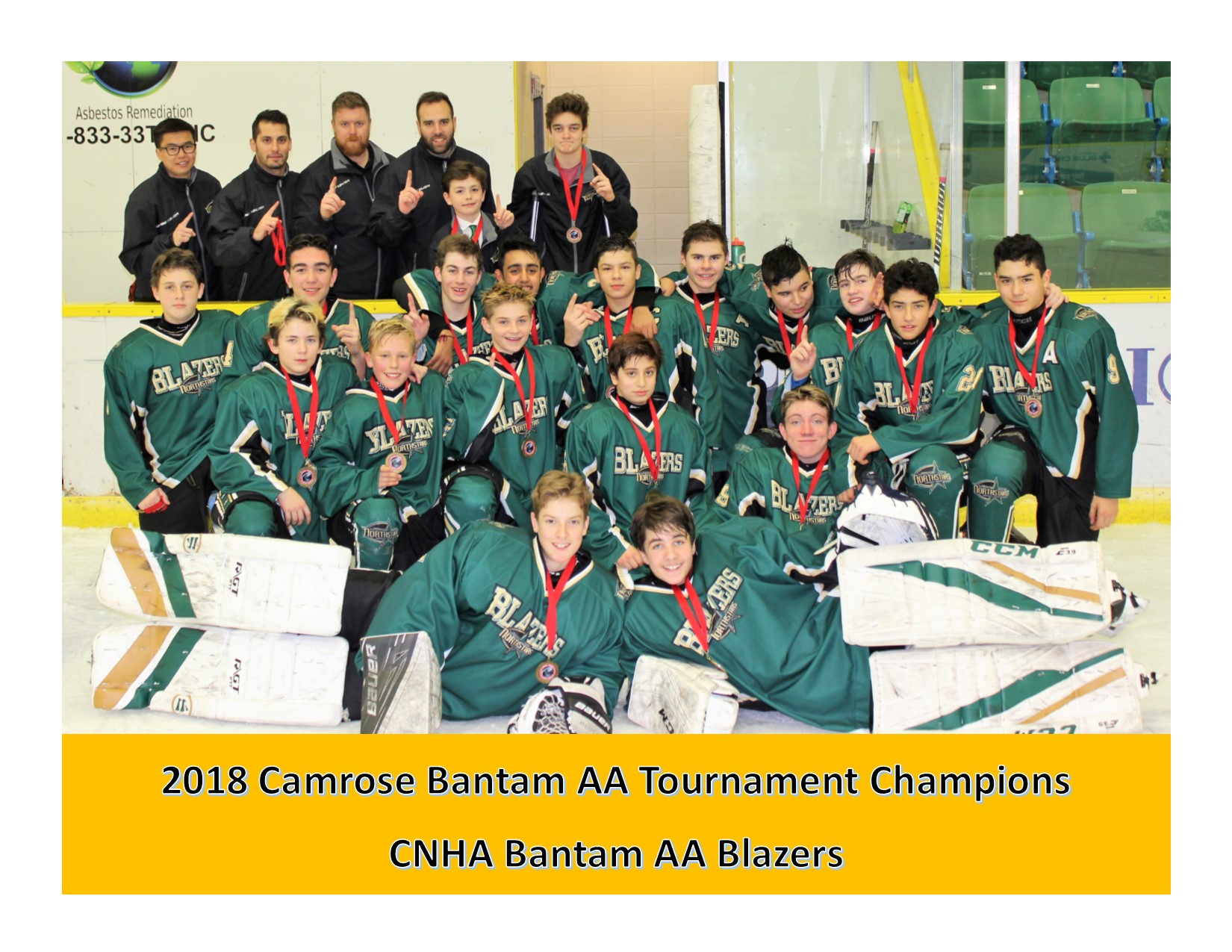 Tournament Champions 2018 /2019 Revelstoke B.C.
Midget AA Stamps participated in the Revelstoke Grizzlies AAA Midget Invitational this weekend and had a stellar performance where they brought home the bronze medal.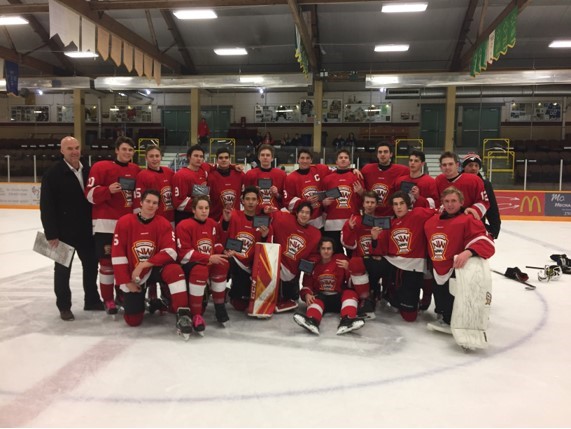 ---
The Friends of Alberta Junior Hockey Society are pleased to announce the reciepients of some of the 33 scholarships that are awarded to players, officials, and alumni this season. Don Allan presented these awards on behlf of the Friends of Alberta Junior Hockey Society,
Recieving $2000.00 each in recognition of their academic achievements and who are continuing to play hockey at a high level.
Kyle Exner Calgary Jr. B. Stamps was awarded the Mark Goodkey Memorial scholarship which is for highest academic and all round athlete. Kyle is taking Bachelor of Science degree in the faculty of Kinesiology with a major in Exercise and Health Physiology. He has GPA 3.97 at U of Calgary.
Caleb Laser Calgary Jr. B. Stamps was awarded a Charles S. Noble scholarship. GPA cumulative 3.58 taking Bachelor of Nursing at Mount Royal
Kieran Lamont Calgary Jr. Blackhawks was awarded a Charles S. Noble Scholarship. GPA cumulative 3.84 taking Bachelor degree in Kinesiology, Bachelor of Kinesiology, with a Kinesiology major at University of Calgary.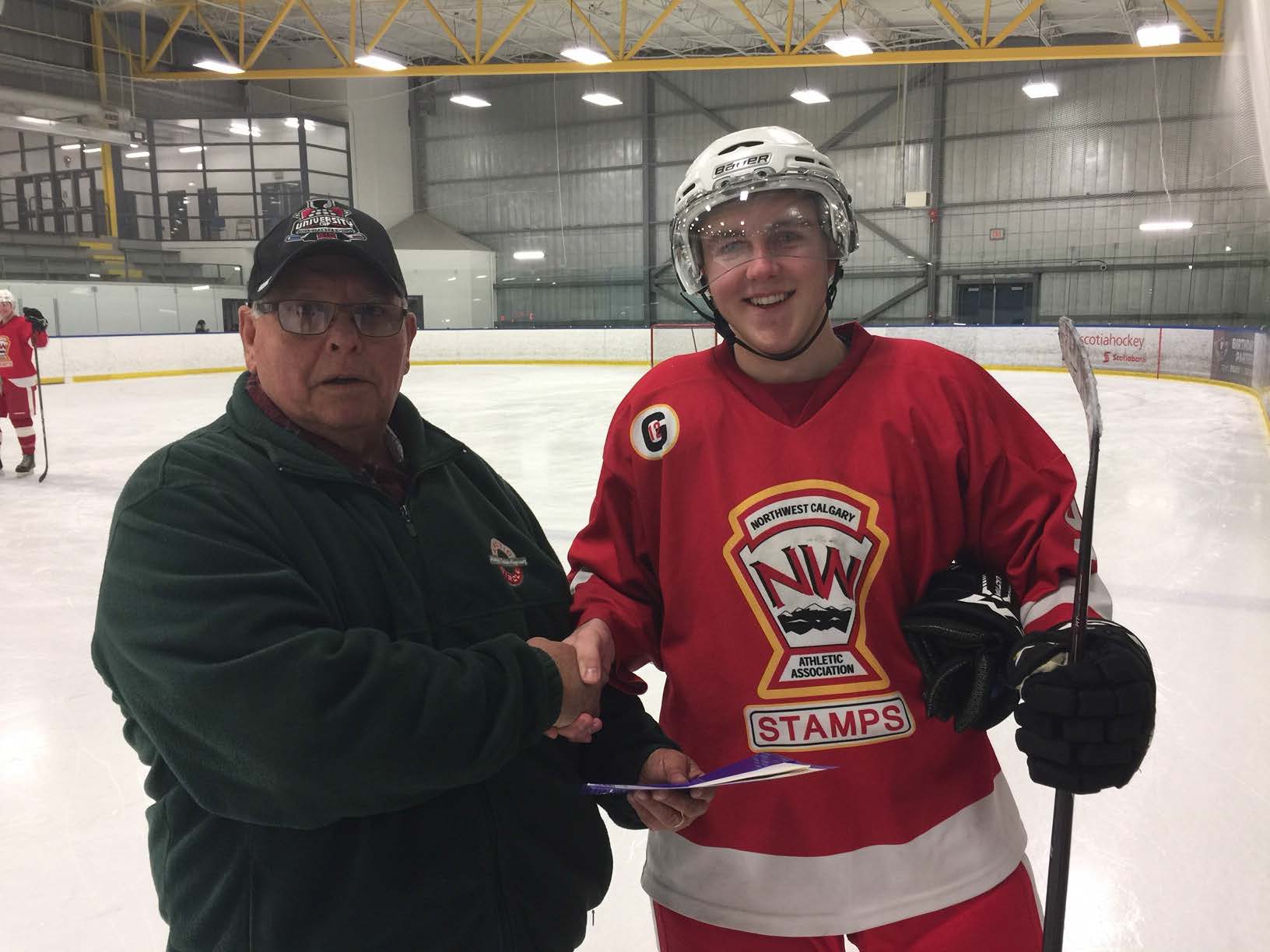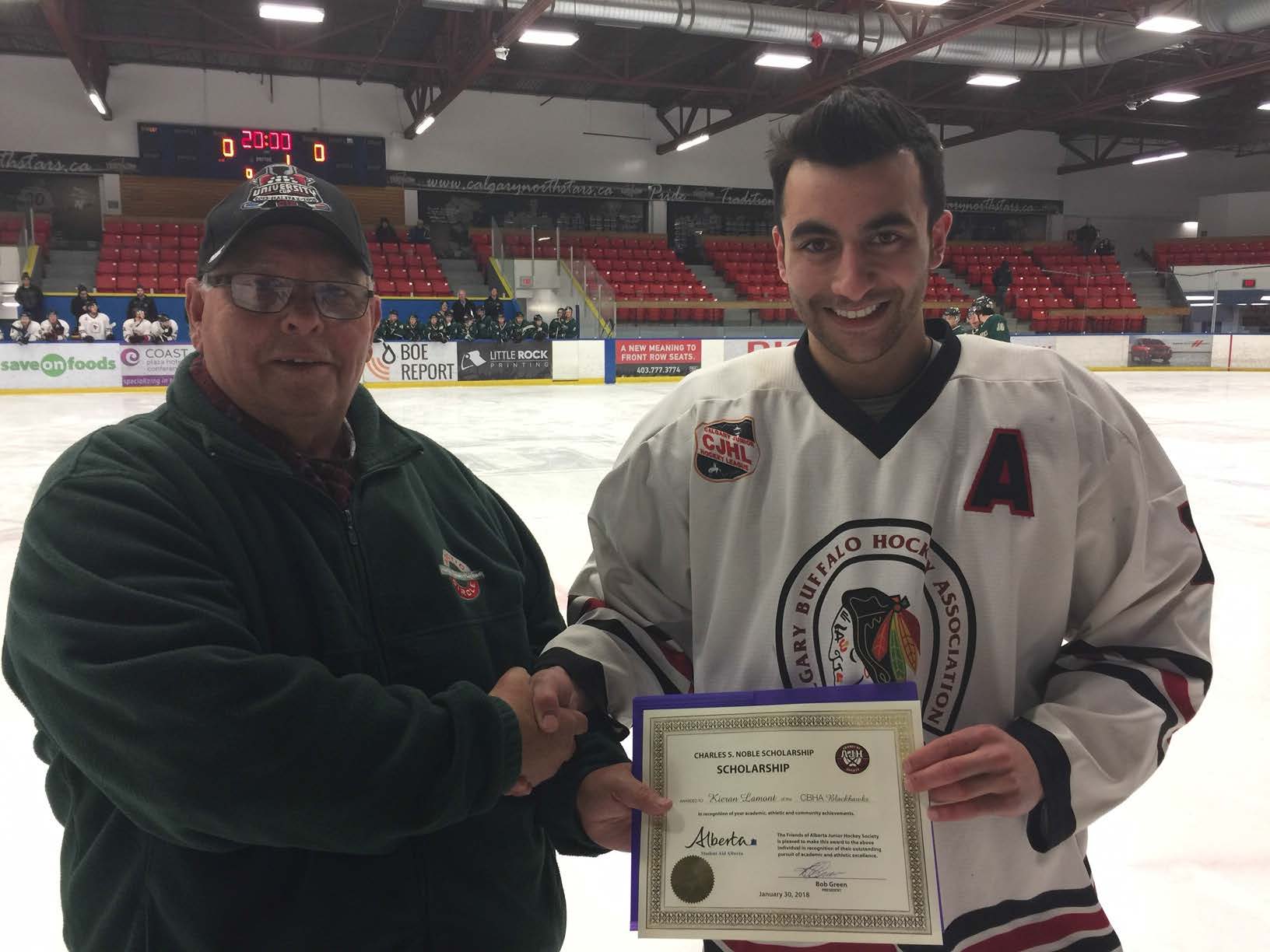 ---
2018 Bantam AA & Midget AA ALL-STAR Games
Was held Jan 21, 2018 at the MaxBell Center on the Ken Bracko Arena. This years event was be Hosted by the NWCAA.
Bantam AA South defeated North 4-3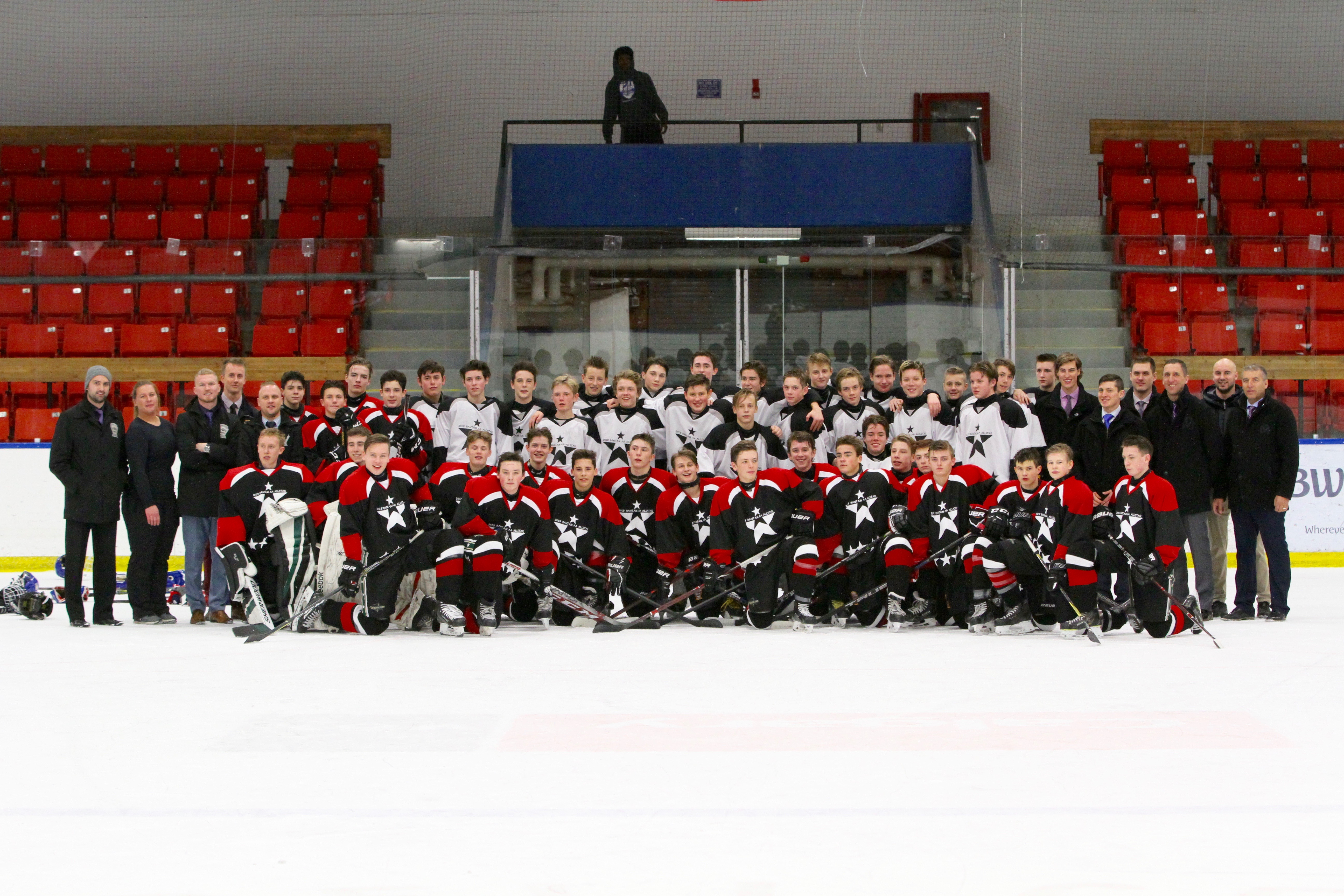 Midget AA - East Defeated West 11-4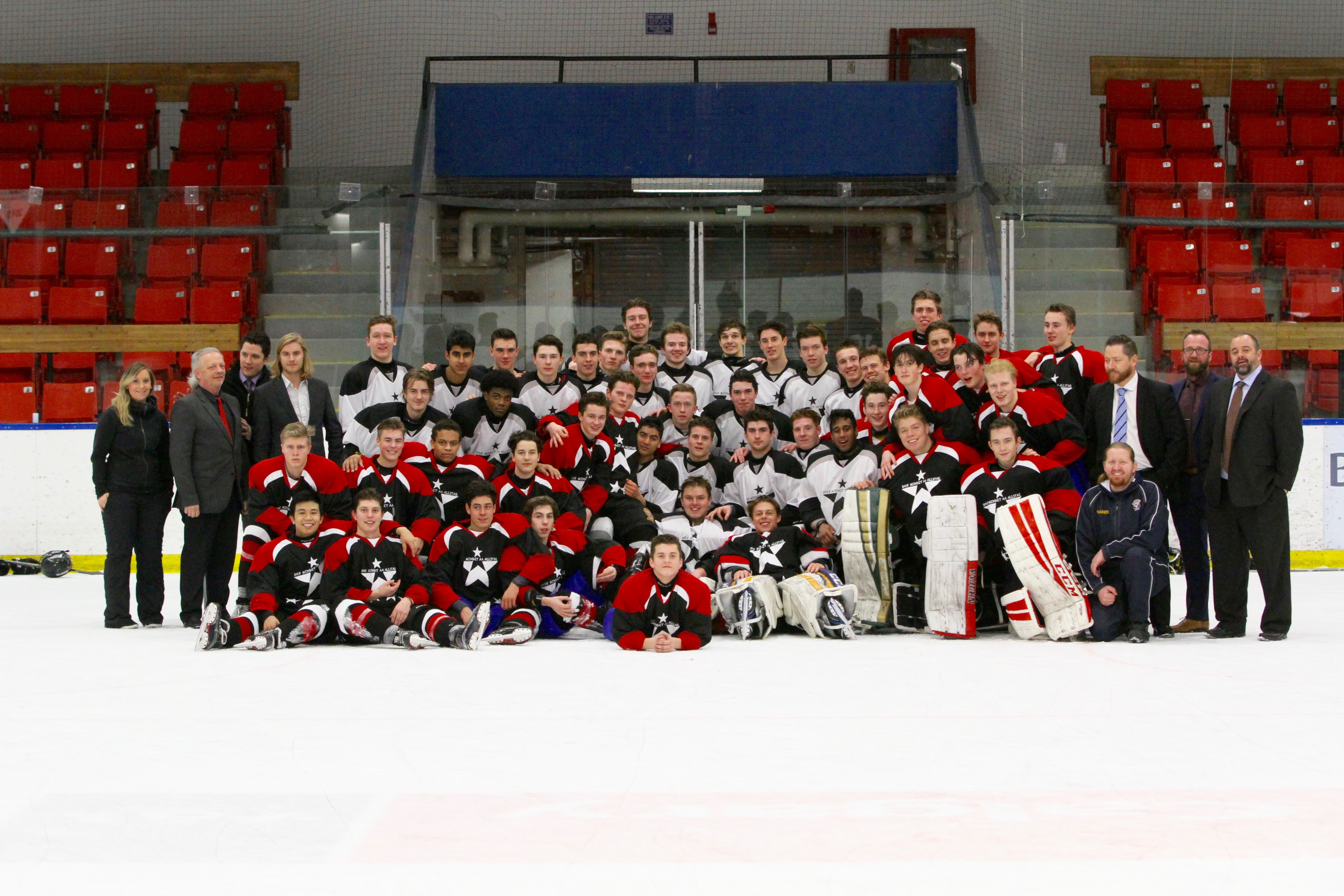 8 Boxes of Food Bank donations were collected on behalf of the Veterans Food Band. Thank you to everyone that participate and contributed to the 2018 ALL STAR GAME.
---
Spring / Fall Junior Camps
If you are going to attend any Spring / Fall Junior Camps, Hockey Calgary has created an online form which is available through the link below. You must complete the online form and press "Submit". You will receive a reply from Hockey Calgary once the submission has been reviewed. If Approved, you must take the confirmation email to the camp with you, as it now represents the Letter of Permission. No signatures will be required.
https://www.hockeycalgary.ca/forms/letter-of-permission
---
Hockey Calgary Thanks Our Sponsor
---


Hockey Calgary Thanks Our Sponsor