Awards Gala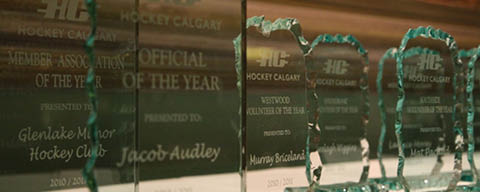 2015 Hockey Calgary Awards Gala
The 2015 Hockey Calgary Awards Gala will take place on April 11, 2015at Canada's Sports Hall of Fame.
Hockey Calgary Awards Open to Public Voting
Hockey Calgary Outstanding Service Award
Member Association of the Year Award
Hockey Calgary Awards Gala Nomination Criteria
Voting will close on March 27 2015 at 4:00 p.m..
Tickets
If you are interested in attending this year's Hockey Calgary Awards Gala tickets can be purchased at an individual or group rate. See below.
Individual Rate - $25 plus GST
Group Rate of 10 or more - $200 plus GST
---
2014 Hockey Calgary Awards Gala
Thank you to everyone who made it out to our Awards Gala on April 12. We hope you had a great time! Please see below the list of the 2013-2014 award winners! Congratulations to everyone who recieved an award! We look forward to another great year.
Check out our2013/2014 Year End Video!
2013 - 2014 Hockey Calgary Award Winners
Hockey Calgary Awards
Official of the Year -Robbie Patterson
Volunteer Achievement Award -Rayn Boyko
Member Association of the Year -Trails West Minor Hockey Association
Coach of the Year -Jeremy Blumes (CRAA)
Hockey Alberta Award - Cheryl Nealon
Ray Hostland Memorial "Presidents Award" - Ian Corkin
Association Volunteer of the Year:
Blackfoot- Maureen McClean
Bow River- Murray Prime
Bow Valley- Bill Gourley
Calgary Buffaloes - Lori McDonald
Calgary Northstars - Lisa Heddinger
Calgary Royals - Julie Hendry
Crowfoot -Tara Porcu
Girls Hockey Calgary -Terry Batke
Glenlake- Blake Louden
Lake Bonavista - Rod Stephens
McKnight -Cam Bell
Midnapore - Lisa Rosier
Northwest Warriors - Lisa Dobell
Northwest Calgary - Kim Breithaupt
ATB Rec Hockey - Jeff Deere and Gerry Robitaille
Calgary Saints - Denise Kent
Shaw Meadows - Tammy Patterson
Simons Valley - John McMahon
Southland -Dianne Bitz
Southside -Monica McIlwrick
Springbank -Lori Black
Trails West -Brad Mattson
---
2012/2013 Hockey Calgary Award Winners
Hockey Calgary Awards
Official of the Year -Jordan Gay
Volunteer Achievement Award - Laurie Rutherford
Member Association of the Year -Springbank Minor Hockey
Coach of the Year - Dustin Aasen
Hockey Alberta Award - Dave Sevalrud
Ray Hostland Memorial "Presidents Award" -Sue Makarchuk
Association Volunteer of the Year:
Bow River - Michael Burr
Bow Valley - Warren Jack
Crowchild - Shawn Laursen
Crowfoot - Kevin Keenan
Glenlake - Greg Winnicki
Lake Bonavista - Leanne McKay
McKnight - Stacey Fergusson
Midnapore - Karin Henderson
Rec Hockey - William Shortridge
CRAA - Lisa Ofner
Shaw Meadows - Hugh Lasham
Southland - Mark Cunningham
Southside - Mark Ewanchyna
Springbank - Tammy Yakemchuk
Westwood - Paula Emery
Blackfoot - Judy McBride
Saints- Teena Prevost
NWCAA - Gary Czaikowski
Hockey Calgary Thanks Our Sponsor
---


Hockey Calgary Thanks Our Sponsor