Awards Gala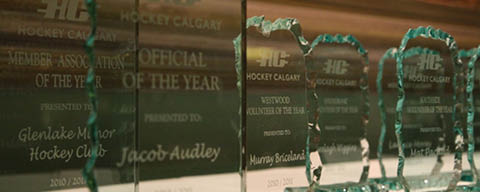 2015 Hockey Calgary Awards Gala
The 2015 Hockey Calgary Awards Gala will take place on April 11, 2015.
---
2014 Hockey Calgary Awards Gala
Thank you to everyone who made it out to our Awards Gala on April 12. We hope you had a great time! Please see below the list of the 2013-2014 award winners! Congratulations to everyone who recieved an award! We look forward to another great year.
Check out our2013/2014 Year End Video!
2013 - 2014 Hockey Calgary Award Winners
Hockey Calgary Awards
Official of the Year -Robbie Patterson
Volunteer Achievement Award -Rayn Boyko
Member Association of the Year -Trails West Minor Hockey Association
Coach of the Year -Jeremy Blumes (CRAA)
Hockey Alberta Award - Cheryl Nealon
Ray Hostland Memorial "Presidents Award" - Ian Corkin
Association Volunteer of the Year:
Blackfoot- Maureen McClean
Bow River- Murray Prime
Bow Valley- Bill Gourley
Calgary Buffaloes - Lori McDonald
Calgary Northstars - Lisa Heddinger
Calgary Royals - Julie Hendry
Crowfoot -Tara Porcu
Girls Hockey Calgary -Terry Batke
Glenlake- Blake Louden
Lake Bonavista - Rod Stephens
McKnight -Cam Bell
Midnapore - Lisa Rosier
Northwest Warriors - Lisa Dobell
Northwest Calgary - Kim Breithaupt
ATB Rec Hockey - Jeff Deere and Gerry Robitaille
Calgary Saints - Denise Kent
Shaw Meadows - Tammy Patterson
Simons Valley - John McMahon
Southland -Dianne Bitz
Southside -Monica McIlwrick
Springbank -Lori Black
Trails West -Brad Mattson
---
2012/2013 Hockey Calgary Award Winners
Hockey Calgary Awards
Official of the Year -Jordan Gay
Volunteer Achievement Award - Laurie Rutherford
Member Association of the Year -Springbank Minor Hockey
Coach of the Year - Dustin Aasen
Hockey Alberta Award - Dave Sevalrud
Ray Hostland Memorial "Presidents Award" -Sue Makarchuk
Association Volunteer of the Year:
Bow River - Michael Burr
Bow Valley - Warren Jack
Crowchild - Shawn Laursen
Crowfoot - Kevin Keenan
Glenlake - Greg Winnicki
Lake Bonavista - Leanne McKay
McKnight - Stacey Fergusson
Midnapore - Karin Henderson
Rec Hockey - William Shortridge
CRAA - Lisa Ofner
Shaw Meadows - Hugh Lasham
Southland - Mark Cunningham
Southside - Mark Ewanchyna
Springbank - Tammy Yakemchuk
Westwood - Paula Emery
Blackfoot - Judy McBride
Saints- Teena Prevost
NWCAA - Gary Czaikowski
Hockey Calgary Thanks Our Sponsor
---


Hockey Calgary Thanks Our Sponsor