Esso Minor Hockey Week

THANK YOU ESSO FOR 40 YEARS!
---
IT'S A WRAP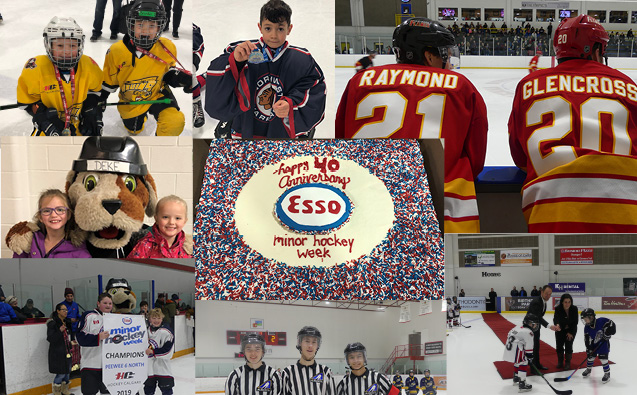 CONGRATULATIONS TO THE 2019 ESSO MINOR HOCKEY WEEK CHAMPIONS
Saturday January 19, was a great day for EMHW finals which were held at various arenas all across the City. We are excited to announce all of the 2019 EMHW CHAMPIONS have ben crowned. The 40th ESSO Minor Hockey Week has now come to a close.
Thank you to all of our Volunteers, Officials, Players and Parents. This tournament would not be the success that it is without your help and support. Your time and efforts are greatly appreciated.
Click to view the full list of 2019 EMHW CHAMPIONS
See you all Jan 11, 2020 for the 41st Annual EMHW!
---
This year we are proud to recognize the 40th anniversary where Imperial Oil has been the major supporting partner for "Esso Minor Hockey Week". Imperial has been closely linked to Canada's national sport since sponsoring the first national radio broadcasts of professional hockey in 1936. Their sponsorship today is focused on hockey events, activities and programs that support kids and local communities across Canada including Esso Medals of Achievement, Esso Fun Days and Esso Minor Hockey Week in Calgary.
Whether your team plays two games, or are fortunate to play all the way to the Championship game, you have been part of the of the pure joy that makes Esso Minor Hockey Week so special. Each year, at this time, we have come together as a hockey community, we have played hard together and we can all leave together with a smile on our face because we have all been part of the largest hockey tournament in the world!

---
---
Other Seasons
---
Tournament Sponsor
---
Tournament Sponsor
© 2019 Hockey Calgary. All rights reserved.