Hockey Study - Bantam & Midget Players Needed!


Hockey Study Team Recruitment Information
Why are we doing this?
We want to learn more about the symptoms and long-term effects of concussion.
The study will inform future diagnosis and management of concussion in youth players. Better treatments may lead to faster returns to hockey after injury.
Who are we looking for?
Bantam and Midget hockey teams.
Why should you participate?
Players in this study (have completed a baseline testing session) who have a suspected concussion will be able to see a Sport Medicine doctor at the Sport Medicine Centre (University of Calgary) within a week after the injury. We will strive to get players in within 48 hours.
Players in the study who have hockey injuries that keep them from hockey for more than 7 days will be able to see a Sport Medicine therapist at the Sport Medicine Centre (University of Calgary).
What do you have to do?
1) Off-Ice Baseline Assessment
Players will complete a number of tests that are typically used to assess concussions in professional and elite athletes. This portion can take up to 2 hours for one team to finish and is held at the Concussion Clinic at the University of Calgary.
2) On-Ice Assessment
We will complete the Hockey Canada on-ice skills assessment with your team. This takes around 1 hour per team at a time and location determined by the coach.
We will need a Team Designate to record player participation at games and practices and injuries. An honorarium of $200 will be provided to the Team Designate for their time and effort.
Notes:
A team can participate even if every player on that team does not want to.
Goalies are welcome!
If possible, the research team would be willing to give a short presentation (5 mins) at your next team manager meeting to further discuss this opportunity.
If you have any questions about this research, or to book your team in for testing, please contact:
Research coordinators (Tate or Nicole) 403-220-6336 or hockey@ucalgary.ca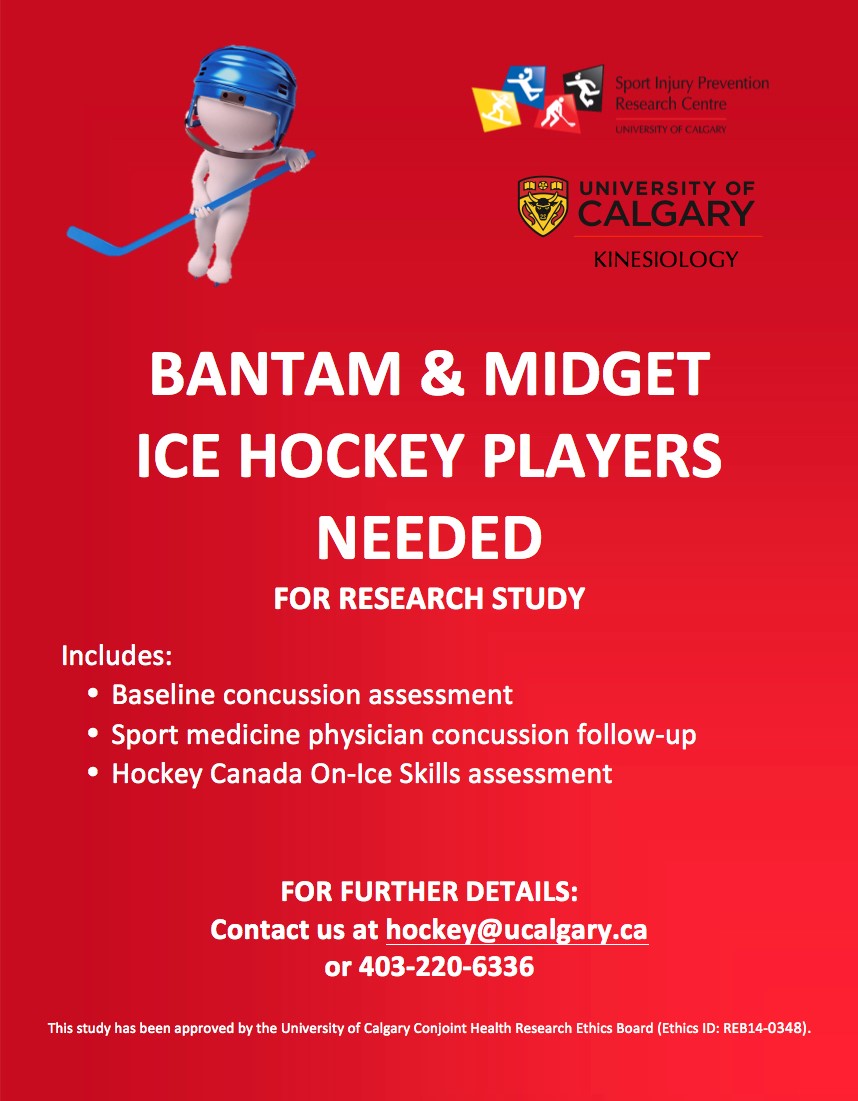 Hockey Calgary Thanks Our Sponsor
---


Hockey Calgary Thanks Our Sponsor