Everyone Wins With Respect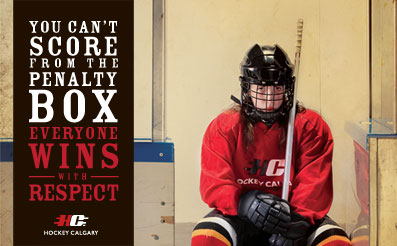 Hockey Calgary is pleased to announce the launch of our new marketing campaign: Everyone Wins With Respect. It is a campaign with a message for players, parents and coaches, a simple reminder that keeping respect in the forefront of our game benefits everyone.
The campaign's imagery is set in a Penalty Box, an iconic symbol of repercussion and reflection. Portrayed in our series of images are players, parents and a coach, each in the penalty box dealing with the isolation and remorse felt when singled out for displaying a lack of respect. Whether a poor choice made by a player on the ice or inappropriate behaviour on the bench or in the stands, their actions result in the game being kept from its true nature: a positive, fun and safe environment for everyone.
Look for the campaign in hockey arenas and other City of Calgary recreation facilities.
View more ads from the Everyone Wins With Respect Campaign.
To report a moment when RESPECT was shown, or an incident where RESPECT was missing, click here.
Hockey Calgary Thanks Our Sponsor
---


Hockey Calgary Thanks Our Sponsor